Indian Culture with its high ideals and traditions is the mainstay of our society. Its consistency comes from sacrifice, compassion and selfless service for others. From time immemorial, we have striven for enlightenment and fraternity. Pursuit of knowledge has enabled us to achieve this. It is a never ending continous endeavour. Children of today will make India of tomorrow. It is they, who Late Sh. Devender Singh Nehra laid the foundation of V.T. Public School, which became a natural need with the times and is an offshoot of the same. This institution with a background of philanthropic activities to his credit, conceived need of the School which could provide quality education to the common people of this growing Meerut. That year, it was only a modest beginning, but over the years the school has progressed to the present stature and strength. Our emphasis has always been on providing the best possible training to young boys and girls so that they may feel at home within themselves and within the society as a whole. We strive our utmost to develop in our students a sense of confidence, quick grasp and an ability to express themselves in a persuasive way by spoken and written words while keeping them rooted to rich cultural heritage of our land. They are inspired to keep an open mind for what the modern world has to offer to us. It is with an dedicated, smart and talented teachers is engaged in imparting education to students studying in classed from NURSERY TO XII The school is open for boys and girls irrespective of caste, creed the best personal attention and care. The teachers spare no efforts to make the children happy spacious accommodation. It is housed in a modern and magnificent three storey building Facilities for teaching Computer Science, Home Science, Biology, Chemistry, Physics, Art Education, Physical Education, Music etc. and subjects of both Science and Commerce Streams in Senior Secondary classed are also available
Education empowers. This is exactly what we do at VTPS. Empower the students to be socially, economically and professionally successful in life. Empower them to be the change and see the change. Empower them to be sensitive to their environment with a progressive attitude.
As members of the society and the nation, it is our sole responsibility to ensure that each child gets his due right to gain knowledge through education and thus develop into a responsible citizen of the future. It is up to us to build the foundation for him, which will ultimately equip him to judge between right and the wrong.
The foundations of a sound education system laid at VTPS, is the biggest service that one can do for the nation and for humanity. Education shapes the destiny of the nation. Therefore, the foundation laid at VTPS aims to bring India on the world map as a developed nation and establish its image as superpower of the new millennium. Nurturing young talent under the tutelage of qualified professionals, VTPS has embarked upon the journey of nation building.
The qualities inculcated in children since childhood are honed and nurtured, developed and directed with a mission and vision to create people who will lead the world. Nurturing talent to bring out the full potential of students and empower them with a winning attitude, VTPS envisions a progressive world where excellence is a way of life.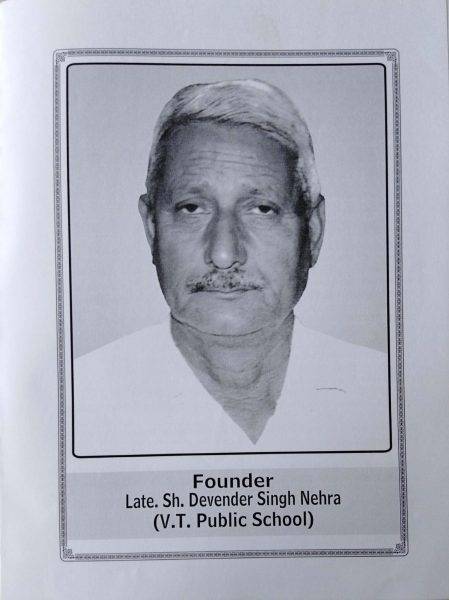 The VTPS is committed to providing a progressive education system that steers the holistic education of a child. While we strive to groom our students to enable them to turn into excellent professionals and achievers, we also aim to nurture them as ethical individuals with a deep understanding and regard for human values. Put simply, we aim to develop a future generation that takes pride in our heritage and culture, has a sense of right and wrong, and at the same time a yearning for global competitive excellence. It is with this aim of offering brilliance to our students on all fronts that we at VTPS leave no stone unturned. From recruiting highly qualified professionals to offering the best educational programmes, great care is taken to ensure that the students get nothing short of the best.
The teaching pedagogy at VTPS has been carefully crafted to ensure a unique study programme for each learning level. The scientifically designed school curriculum caters to every age group. It is VTPS's customized approach to learning which has the perfect blend of worlds best educational practices and Indian traditional values that has enabled our students to set academic and co-curricular records year after year.
Be a positive thinker and focus on the bright side of life with the belief that you can overcome any obstacle and difficulty with the right attitude.
Recognize your strengths imbibing a strong mental and emotional attitude. Strive for excellence in all that you do – academics, arts, sports, & character.
Always treat others with kindness and civility. Adhere to your values regardless of the situation. Endeavour to be the best version of yourself.
Do what you love! Follow your passion! Have faith that you can dream and achieve. Lastly, have a firm resolve to overcome any obstacles.
Control the course of your life and help others realize their abilities and potential. Your words and actions must be uplifting. Always act with empathy.